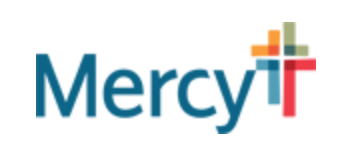 About the Job
We're a Little Different
Our mission is clear. We bring to life a healing ministry through our compassionate care and exceptional service.
At Mercy, you'll feel our supportive community every step of your day, especially the tough ones. We're a team and love working that way. We have opportunities for nurses who are inspired to pioneer new models of care and want to transform the healthcare experience. Work with advanced technology and innovative procedures. Be state of the art, and never stop exploring. We're expanding to help our communities grow, offering an exceptional opportunity to join our team.
Overview
Perform direct patient care activities including assessment, planning, implementation and evaluation within the scope of nursing preparation and consistent with the established standards of nursing practice, the goals of Mercy Health System, the philosophy of the Sisters of Mercy, and the Nurse Practice Act, and the Employee Code of Conduct.
Responsibilities
Assessment of the Patient
Documents initial assessment and triage of each patient's condition on admission.
Documents, in a timely fashion, data relevant to each patient's care.
Assesses appropriate patient care to promote optimal levels of wellness.
Assesses patient understanding of presenting complaints or present condition.
Assesses patient condition utilizing a body systems approach in identifying nursing care problems/diagnoses.
Correlates historic and diagnostic data with patient's assessment and changes in patient condition are recognized.
Interprets historic and diagnostic data and utilized specific to patients on the patient care area.
Identifies short and long-term goals for patients based on acute and short-term needs.
Focus of efforts was rapid disposition or patient by appropriate standards.

Planning of Patient Care
Develops a plan of nursing care from each patient's assessment.
The plan of nursing care is based on the patient's problems in conjunction with the medical plan of care and will include:
- Identified problems (foci).
- Nursing interventions (actions).
- Measurable expectations and outcome set with patient/family.
- Teaching/Discharge plan.
Documents the evaluation of the nursing care (response) in the permanent record of care.
Reviews available diagnostic information to develop a holistic approach to patient care.
Organizes the plan of care, for meeting both acute and short-term needs of the patient.
Implementation of Patient Care
Gives nursing care in accordance with the plan of care.
Meets patient's physical needs, as possible.
Meets patient's spiritual and psychological needs, as possible.
Assures patient of his physical safety.
Provides patient care in accordance with established policies and procedures.
Maintains confidentiality of patient information
Provides organizational skills and priority-setting goals to promote efficient, comprehensive nursing care.
Monitors to insure staff on duty (RN, LPN, or EMT) have completed their assigned duties.
Provides holistic nursing care through collaboration with other health team members.
Provides nursing care which reflects consideration of discharge and/or transfer needs.
Demonstrates proficiency and assumes full responsibility in critical care situation with:
- Accurate documentation
- Chemical interventions
- Technical skills
Demonstrates skills in triage assessments and treatment of all patients.
Evaluation of Patient Care
Evaluates discharges and/or transfers on medical, nursing and home care needs.
Evaluates outcomes of nursing care with specific focus on the patient's progress toward achievement of short and long-term goals.
Documents patient's response to therapy and patient teaching.
Formulates and documents discharge plan.

Wears proper personal protective equipment when appropriate. Observes universal precautions consistently. Wears clothing and Health System badge consistent with dress code, and attends to personal hygiene to maintain a clean, well-groomed appearance. Meets Health System attendance standards. Performs related duties as assigned.
Position Qualifications:

Education: Graduate of a State approved School of Nursing.
Licensure: Possess a current RN licensure with the Missouri State Board of Nursing or current RN Missouri temporary work permit.
Experience: Critical care or emergency experience preferred.
Certifications: BLS, ACLS, and PALS or ENPC Certification required within 90 days of hire. TNCC required within first year of ED employment. Neonatal Resuscitation (NRP) is not required but recommended CEN Certified Emergency Nurse, not required but receommended within 5 years
Other: EPIC training within first month of orientation or first available class

We'll Support You at Work and Home
Getting respect doesn't come easy in healthcare. Modern Healthcare Magazine named us as a "top 100 places to work." We go out of our way to help people feel welcomed. We offer day-one comprehensive health, vision and dental coverage, PTO, tuition reimbursement and employer-matched retirement funds to benefit-eligible co-workers, including those working 48 hours or more per pay period!
What Makes a Good Match for Mercy
Compassion and professionalism go hand-in-hand with us. Having a positive outlook and a strong sense of advocacy is in perfect step with our mission and vision. We're also collaborative and are not afraid to do a little extra to deliver excellent care-that's just part of our commitment. If that sounds like a fit for you as well, we encourage you to apply.
Mercy has determined this is a safety-sensitive position.  The ability to work in a constant state of alertness and in a safe manner is an essential function of this job.